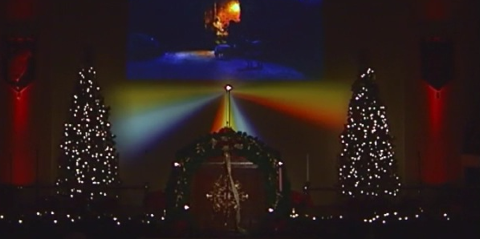 December 1, 2016

Dear Friend,

When I think of the Christmas season, what often comes to mind is the display of light—on trees inside and outside houses, decorating yards and buildings, and the light from the candles that millions will light at their favorite candlelighting service this year. Unity did not always have such a beautiful and symbolic Christmas tradition. It was not until Ernest Wilson joined the workers at Unity headquarters on Tracy Avenue in Kansas City during 1927 that this beautiful and symbolic service became a reality.

As Ernest's first winter and Christmas in Kansas City approached, he thought about the candlelighting service which he had developed and featured in congregations he had served before he joined Unity. That service grew out of some of Jesus' words: "I am the light of the world, ye are the light of the world...let your light shine." In his candlelighting service Ernest had used a tall candle to represent Jesus Christ, a small candle to symbolize the latent Christ-nature in us all. Each person lit his small candle from the tall one and placed it in a tray of salt to represent Jesus' statement, "Ye are the salt of the earth." It was an enactment of the scripture as well a reminder of the Christ light within every person, regardless of appearance or circumstance.

Ernest said that as he conducted this service, he became aware that for some it was a prayer for healing, for others a prayer of healing realized. He also believed that the simple ceremony emphasized that becoming the light of the world meant that we can help others to find the light within themselves. Sometimes someone lit a candle for an absent friend or family member. In addition to lighting the small candle, each one had a short affirmative prayer on a strip of paper rolled around the base of the candle and held by a rubber band. The blessing was to be removed and taken home as a personal message.

Looking back to these services and remembering that people of all ages and differing religious experience all seemed to accept this simple ritual reverently. The beautiful message reached past sectarian boundaries.

Ernest Wilson said, "I made an appointment with Charles Fillmore; found him sitting relaxed before an open fire in his study. I told him about the service. Would he approve of my presenting it at Unity Chapel (here at 913 Tracy Ave.).

Charles answered gently, "I don't know that it should be an official Unity service, but if you want to present it at
your Tuesday evening class, I don't see why you shouldn't."

Charles and Myrtle were the first to light their candles at that first candlelighting service and since then it has been
used by most Unity ministries ever since. The service proved to be so popular that it had to be moved to different locations to accommodate the crowds: in 1935 1200 attended, 1936 the crowd numbered 1800. Amazingly, in 1937 Unity rented Kansas City Music Hall to hold 3200 people, but hundreds were still left outside!

This year we hope you can join us in person Thursday, December 22 for our annual candlelighting service as we continue the tradition begun in this same chapel in 1927. If you cannot be here in person, the service will be streamed over the internet live that evening beginning at 6:45 CST through the website www.913tracy.org. Click on the button "Watch the Service."

Remember that you are the light of the world, that the light, life, and love of God are within you. No one can bring forth that light except you as you let your light shine, not only this Christmas time, but every day of your life.

The brightest Christmas ever,




Greg Neteler, minister

P.S. Burning Bowl Service Sunday, January 1, 2017 at 11:00 AM CST.